Expert Pet Stain and Odor Treatment – Clinton, IL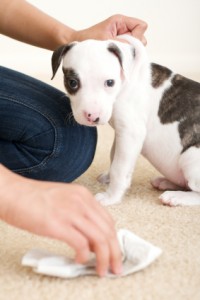 Pets reach all types of surfaces, like couches and kitchen counters, and all types of materials, such as wood, marble, Persian carpet and leather upholstery. Pet odors and stains go hand in hand, so pet owners have big responsibilities. Fortunately, our professional treatment services use top-notch products and techniques that renew a wide range of surfaces.
A pet stain is just like a wine or coffee stain because it is difficult to remove. Once it has set in for months, it seems like it has become part of the material. If a filthy area is not cleaned thoroughly, more stains accumulate. The second that a homeowner spots a stain, he or she must act immediately. Soaking up the wet stain and applying an over-the-counter product is recommended. Even this process may not be enough.
Our expert cleaners use unique equipment and extremely hot temperatures to extract deeply ingrained dirt. Heated steam or water is applied to invade the fibers and break up the odor and stain particles. In a matter of hours, the carpet looks better than it did when it was first used. Expensive carpet repairs and replacements can be easily avoided.
A good tip for pet owners is to instruct the pets not to stain certain areas. This process takes time. However, an average carpet cleaning and maintenance session does not take too much time. The stains and smells are gone within hours, and the homeowner goes back to enjoying a floor and house that is made like new.
Call Today for a Free Estimate! 217-935-3881 or 217-649-3036